Louisville's #1 Choice for
Bounce House Inflatables & More!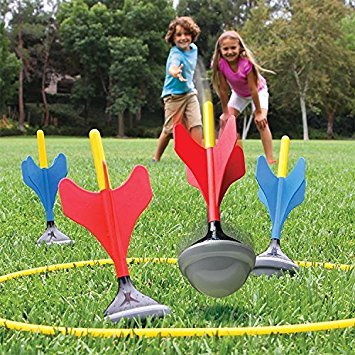 Lawn Darts
Two Player Setup vs. Teams of Two Setup
If you are playing with only two people, players stand together on the same side and aim at the same target. Once all the darts are thrown by both players, points are calculated and they move to the other side to aim at the target they were previously standing by in the last round. When playing with teams of two, one player from each team should stand on each side of the two circular target areas. This will ensure that you are shooting against your opponent and can properly calculate scores.
How to Play Lawn Darts
Yard darts will start at one end, standing behind the circle. Each team will receive two darts either red or blue and they will throw both of them per round. Each player will alternate their two throws at the target on the other end. Toss it at the other circle target area using an underhand motion and it is recommended to lob it upwards with enough arc to let the Jart stand nearly upright when it strikes the ground. If you don't follow this recommended strategy, it may bounce around and not ultimately land where you had intended.
Best bounce house rentals in Louisville, KY!