Kansas City's #1 Choice for Water Slide Rentals & More!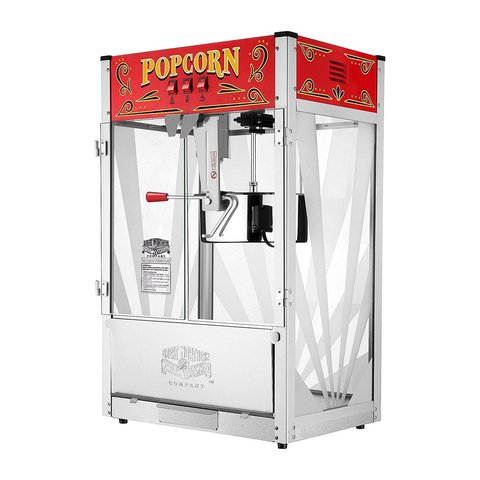 Popcorn Machine Rental
Actual Size: 4x4
Setup Area: 4x4
Outlets: 1




Popcorn Machine Rental Kansas City
Works on 110 volts, 1350 Watts
12 oz stainless steel kettle
Control switch includes spot light warmer, stirrer and pot heater
Heavy duty powder coated steel and stainless steel construction
Tempered glass
Machine is 15.5"L x 17.75"W x 30.25"H
Yields roughly 5 gallons of popcorn per batch
If you are looking for a popcorn machine rental Kansas City, Great Northern has created a master piece with their new 12 Ounce Commercial Quality Pop Heaven popcorn machine. This machine has revolutionized the industry with it's sleek styling, extra large kettle capacity, and extra large popcorn yield. Gator Jump offers this 12 ounce popcorn machine rental and it is perfect for churches, schools, kid clubs, varsity clubs, concessionaires, and anyone else looking for an awesome popcorn machine rental in the Kansas City area!
The Pop Heaven is our largest popcorn machine and a proven performer. The 1350 watt kettle heats/cooks the popcorn quicker than our other machines and the larger size holds much more popcorn. These commercial quality machines feature stainless steel food-zones, easy cleaning stainless steel kettles, an exclusive warming deck, old-maid drawers (for unpopped kernels), tempered glass panels and an industry leading 12 ounce kettle operating on 1350 watts. With the sleek style design, you will be reminiscing about your early days at the ball game, carnival, or the movie theater. We have combined the best of both worlds--not only are you getting today's technology, you get an eclectic design with all the conveniences of the modern era.
A couple of conveniences worthy of note include our exclusive old-maid drawer. Our machine was designed with small perforations in the bottom stainless tray to allow the un-popped kernels to fall into the drawer. Simply "rake" the popped corn with a scoop and the "old-maids" disappear. We have sold thousands of units to churches, schools, businesses, day care centers, varsity/PTA clubs, and more. Of course, our #1 customer is the home owner looking to add a theatrical effect to their home theater.